FRENCH LANGUAGE CLASSES - CULTURAL EVENTS -
FRENCH MOVIES WITH SUBTITLES - PRACTICE YOUR FRENCH FOR FREE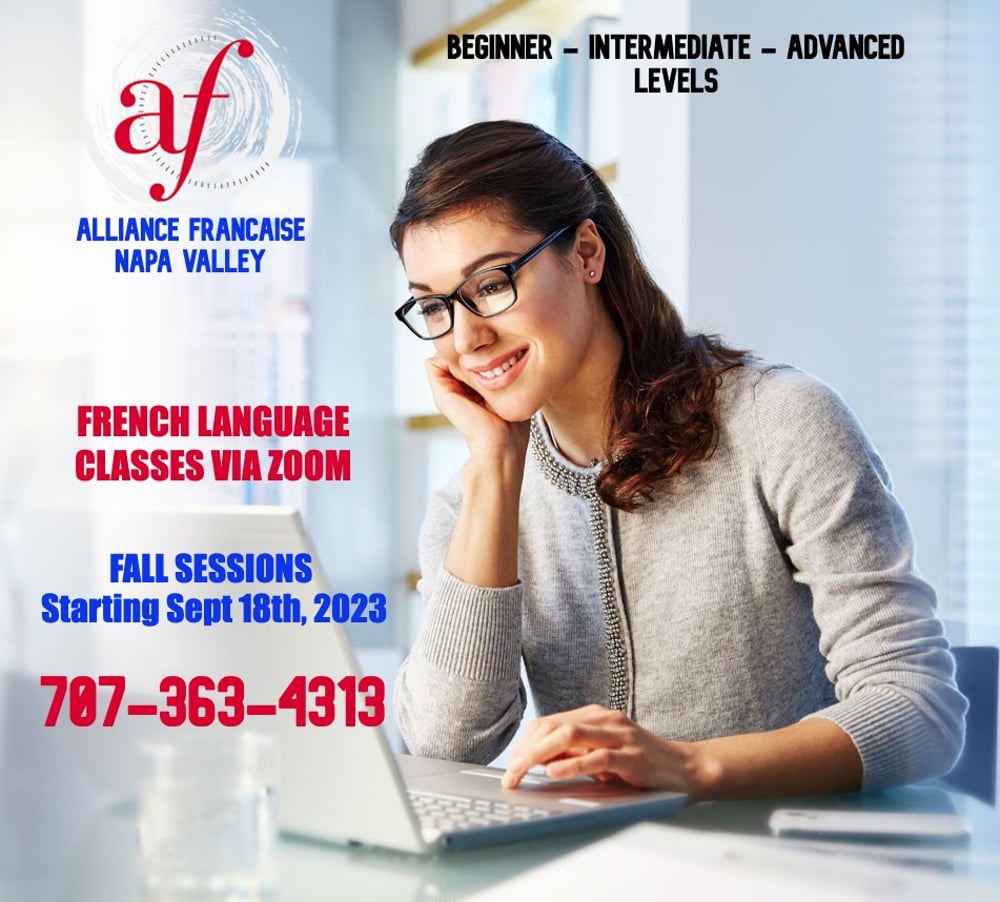 Welcome to Alliance Française
de Napa Valley
We offer French classes, French conversation lessons, and French language activities such as movies and lectures in Napa Valley. Our chapter was formed in 1987. Our goal is to share the spirit and culture of French-speaking countries through language courses, social activities, and community outreach. People of all ages come to the Alliance to improve their language skills, participate in French cultural activities and connect with people who speak French, but you do not need to speak French to participate in our events and enjoy French culture here in Napa.

We invite you to join us.
You can also contribute by donating.

FRENCH LANGUAGE CLASSES
FALL SESSIONS
September 18th, 2023
LEARN FRENCH VIA ZOOM

4 French language levels
Beginners to Advanced
Convenient schedule - 6 to 7:30 pm
Small classes - 8 students max

Alliance Française de Napa Valley offers high-quality, affordable French language classes for everyone. Are you looking to brush up on your French before traveling abroad? Maybe you just want to feel more at home when traveling to France. Maybe join a group of native speakers and make some friends? We are located in beautiful Napa Valley but cater to all locations via Zoom, making learning French possible anywhere in the world!


MEMBERSHIPS

Why become a member?
L'Alliance Francaise de Napa Valley is an independent chapter but still part of the Fondation Alliance Française Family. We are self-funded and rely exclusively on our membership dues, the tuition for the French classes, and donations.

Since 1987, the Alliance Française de Napa Valley has been offering events, lectures, French movies and many other festivities in Napa Valley. Since 2019, members have free access to CULTURETHEQUE, an online French print and media library. To provide these benefits, we rely only on our members' support.

Membership dues, donations, and tuition help us create these events and bring France closer to you.

By supporting the Alliance Française de Napa Valley, you are part of a worldwide family.

BECOME A MEMBER

Members are the first to be invited to events, some free to members, and receive special member pricing for other events. Membership may be purchased year round to run through August 31.

New members will pay $60 from September 1 to the end of February and $30 from March 1 to August 31.

Renewing members will pay the full amount each year (September 1 to August 31). Membership renewal is sent out in August, and the new year begins September 1st. To start your membership, to renew, or those wishing to provide further support by making a donation, click on the store link below

AF MEMBERSHIP PROGRAM
Four types of membership are available:
Individual, Couple or Family, AFNV Student and Student Family

Individual – $60
Couple or Family – $110 AFNV
Student – $30
Student Family - $80